Hi,
I have been trying to mesh a NACA 23012 airfoil with 25% slotted flap using cutcell assembly meshing. The overall geometry capture of the mesher is quite good, however, it seems to miss small "details" in the geometry.
The Geometry was created in Solidworks and imported directly into workbench (Pic attached). The problem area highlighted in the picture has mesh elements "cutting-through" the lip. The narrow portion of the lip is approximately 5 cm long and the top and bottom surfaces are attached by the means of a sharp spline. A picture of the mesh in this region is also attached.
Through the method of trial and error I've been trying to figure out why this is happening but am unsuccessful so far. Ive tried:
-Lowering Min size and Proximity Min-Size
-Apply hard face sizing
-Increasing the relavance
-Program controlled inflation (this generally ends badly since I only have 64 GB of RAM on the machine)
-Messing with the feature angle. (this does reduce the problem to some extent)
...All to no Avail.
I hope CFD-Online can help me figure out where the problem lies so that I can fix it. Without you guys and this site, getting through senior year of Aerospace Engineering is IMPOSSIBLE
Mesh Settings
Relevance: 20
Size Function: Proximity & Curvature
Relevance Centre, Smoothing: Fine,High
Curvature Normal Angle: 90
Proximity size Function Sources: Faces & Edges
Min Size: 3mm (Domain is a C Duct with a 20m radius and 50m wake region extruded out to 1 metre (pic attached)
Proximity Min Size: 8mm
Growth Rate: 1.2 - Min Edge length is found to be 0.540 m
Face Sizing on the main airfoil is set to 3mm hard. No sizing on flap.
Cut Cell Assembly mesh with feature capture by means of feature angle at 90 degrees.
Absolute Tolerance for Tessellation refinement set to 0.00015m (5% of min size)
Intersection feature creation is program controlled.
Geometry

Mesh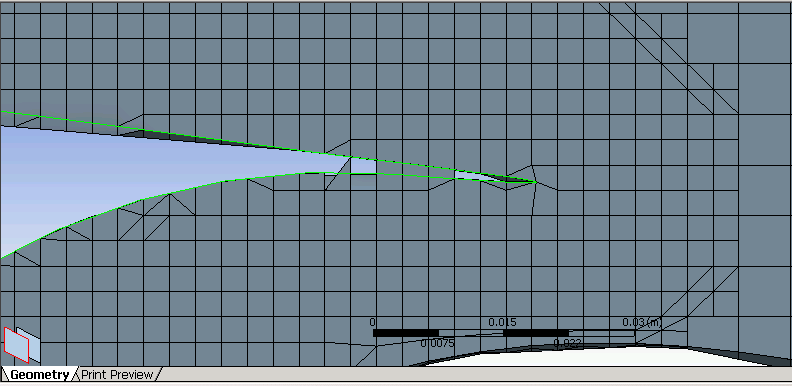 Domain