Anyone that could help, greatly appreciated:
Background:
Back around 2001-03, through our school I picked up a Airtech 40ic wind tunnel from Pitsco supplier for use with our grade 9 tech course. It was used mostly for testing F1/co2 dragsters. It interfaced with a computer, I think running Windows 95 at the time, and with a electronic test bed sensor inside the wind tunnel and hooked up to a game port on the computer would test for drag and wheel weight at both ends with about 40-50 mph wind speed.
History:
The program changed and I ended up with other course responsibilities, now 10 plus years later, resulting in the manual and software going missing, leaving a perfectly great working wind tunnel minus the manual and application interface software. Refreshing the tech course/program I am not getting any support from the supplier/manufacture of this unit at all, have not been successful in obtaining the operation manual, nor the software (was on a 3.5" floppy disk at the time) and am hoping that someone reading this has this unit with the manual and software, so that they may be able to pass on.
Require:
Getting the manual and software will enable students to be able to test their projects in the wind tunnel, learn from their prototyping, and all about aerodynamics in a practical hands-on view.
Pictures
Picture of Pitsco Airtech 40ic wind tunnel

Larger image of Pitsco Airtech 40ic wind tunnel:
http://mfranzen.ca/images/pics/class...d-tunnel-l.jpg
A closer look on the larger image you can see in the centre of wind tunnel(inside), the white testing bed sensor and just below that sitting on a scanner is the hardware control interface that runs a game port cable to the computer.
Picture of a printed project test report from the interface software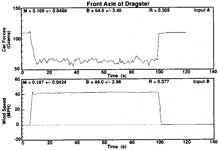 Larger image of a printed project test report from the interface software:
http://mfranzen.ca/images/pics/class...raph-rpt-l.jpg
More detail on sensor base and sensors:
The wind tunnel itself has a sealed plastic white base where three sensors are located (if you look closely in the picture you can see it through the test window chamber in the centre) that has the two wheel weight sensors and a small arm to hook your eyelet under the car to get the drag pull force, and it also has a small propeller module in the upper, top, back corner of the wind testing chamber that plugs into the white base.
All of that is connected to a 15 pin game port connector which connects to their hardware controller. Their hardware controller has it's own power supply (not sure what voltage it needs at the moment), calibration adjuster for small drag arm sensor, and another output for a game port cable to plug into a computer.
See picture below: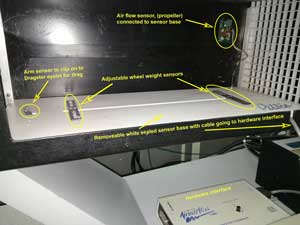 Larger image:
http://mfranzen.ca/images/pics/class...nterface-l.jpg
Everything is there, ready to go, just need to power up hardware controller with correct DC feed. If I get the software, then it would just be working out the compatibility with OS (or just use an older computer with old OS and game port) using the multi game port configuration adapter or further to the extreme:
get a new controller like a cRio/CompacDAQ or Arduino - see if it can read signals (mini op amp maybe?) and write the code, or:
Get new sensors altogether that are more compatible with new controller and then code
Obviously the easiest to resolve this would be the acquiring the software. Ugh!
If only one other person that has this model, sees this request and willing to share, it would be a great help!
Help!
If anyone reading this has or knows someone with the Pitsco Airtech 40ic wind tunnel, I could sure use your help here in obtaining the operation manual and application interface software. Or maybe you have another suggestion on where I can look, or who can help me here.
Once I have the manual/software, I can try to get this working, so students can use with their racing project design and hands-on testing.