I'm new to Star CCM+, so this may be a rudimentary question, but I'm totally stumped. Any help would be really appreciated.
So first I'll say that I've completed the "Introduction", "Heat Transfer and Radiation > Conjugate Heat Transfer: Heated Fin Introduction", and "Heat Transfer and Radiation > Multi-Part Solid: Graphics Card Cooling" tutorials.
Now I'm embarking on my first custom model. Here's the basic run down of what I'm trying to do. I'm trying to model a heated silicone chip in an air enclosure (see the image below). The top of the blue clip will provide heating to the chip. I'm planning on setting the walls of the surrounding region to a constant temperature.
I've modeled the above assembly in SolidWorks. My problem is that when I import the assembly into Star CCM+ as a .x_t parasolid file, it only recognizes 4 surfaces (see image below).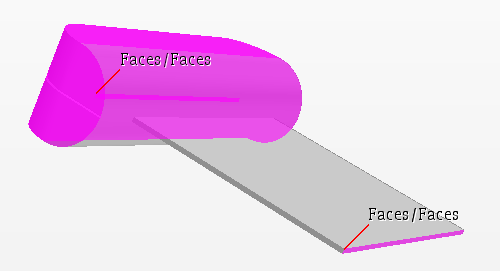 I have looked all over in the documentation, and I've searched this forum and I can't find any clear descriptions of how to address this issue. I'm importing the geometry using Star CCM+'s default import features (see image below).
If you'd like more clarifying information please let me know. Any help would be greatly appreciated!
Thanks!