Hi SU2 users,
I have implemented a source term of dissipative heating in SU2 v. 4.2.0. The expression for the source term is
The total power deposited is
To test the implementation, I am running a simple source in a 2D rectangular box case. The calculations are in dimensional form. The B.C's I am using are :
MARKER_SUPERSONIC_INLET at the inlet
MARKER_SUPERSONIC_OUTLET at the outlet
MARKER_FAR at the top and bottom edges
The location of the source is at
,
and
I am getting the expected flow-field but the mass flow rates are not matching at the inlet and the outlet and therefore the energy balance is not working out. I have tried using both the Residual as well as Cauchy convergence criteria. For the later, I used CAUCHY_FUNC_FLOW as MASS_FLOW_RATE with maximum permissible CAUCHY_ELEMS corresponding to
unsigned short
datatype - but the result is still incorrect. I have also tried increasing the length of the domain.
Please let me know if there is any other way to run the calculation for a longer time to achieve convergence or if my implementation of the source term is incorrect.
I have attached the results below.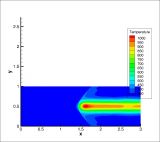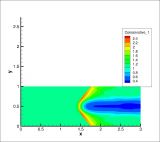 Thanks in advance!